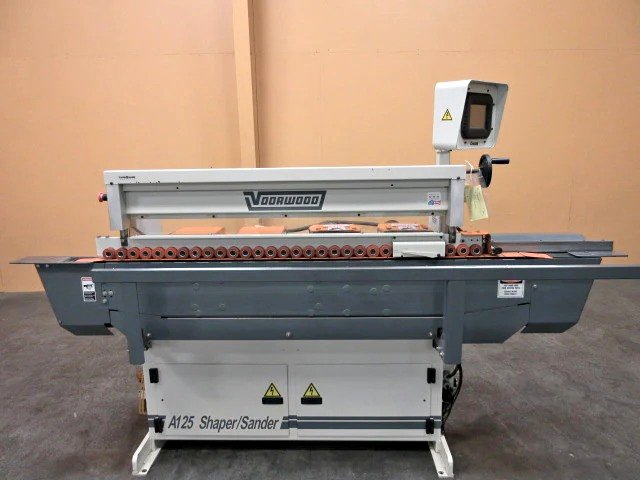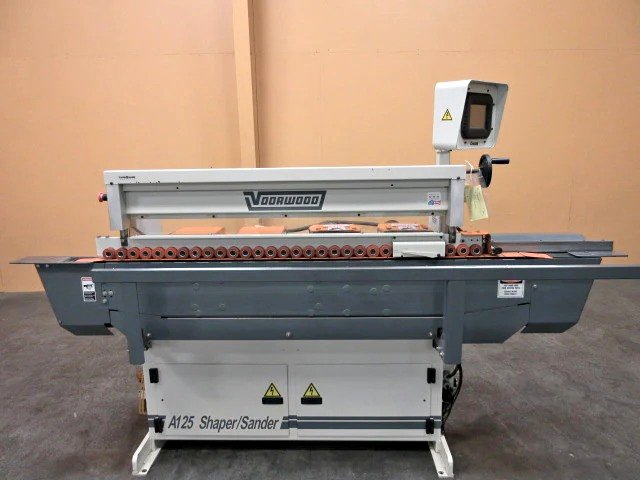 Used
Voorwood A125 Shape and Sand Machine
SKU: UE-091823A
Manufacturer: Voorwood
Date listed: September 18, 2023
Voorwood A125 Shape and Sand Machine
Year Manufactured: 2004
Model Number: A125BC-QC
Includes: Box of new pads
Voltage: 230V
From the Seller: "Technician checked & serviced. In good working order. Included is a box of new pads."
Shape and Sand Feed Through. Great for 5 piece doors, tables, anything requiring a profile and sanding.
GET PRICING
About this Item
Features & Specifications
***Manufacturer's Information:
Voorwood A125F Shape and Sand Machine
Technical Specifications:
- (2) 5 HP 6 000 RPM shaping spindles with 1-1/4" spindles
- Micropoint tilt (moves up and down and in and out)
- Jump feature on first shaping spindle
- (2) 3/4 HP variable speed profile sanding heads with 1-1/8" spindles
- Equipped with quick change spindles Infeed guide fence with digital indicator
- Touch screen control
- Digital position indicators
- 3/4 HP variable speed feed
- 8 to 25 FPM
- 2-5/8" wide x 3"
- Rubber feed track pads
- Rubber wheel hold down rollers
- Minimum material size: 3" x 3"
- Minimum thickness: 1/8"
- Maximum thickness: 1-1/2"
- (1) centralized 6" diameter dust outlet
- Dust Collection: Requires 800 CFM minimum
- Air requirements: 90 PSIG @ 3 CFM
- Electrical requirements: 25 amps @ 480 Volt Note: 480 Volt ONLY
- Machine net weight: 1,490 lbs.
- Machine dimensions: 30"W x 97"L x 63"T
***Concerning "Used" Items: Although we strive for accuracy, some specifications are provided to us by the Seller. Cross-check with manufacturer for any difference between the machine being sold and what is stated in the manufacturer's information. Descriptions of condition of the equipment are not warranties. Descriptions are intended only as a courtesy and their accuracy is not guaranteed. Buyer inspection encouraged. There are no warranties or guarantees implied unless otherwise stated. All items are sold "As Is, Where Is, and With All Faults." No guarantee is made as to fitness for a particular purpose, implied or otherwise. Feel free to contact us if you have further questions before purchasing.
Pricing & Shipping
Interested in the product? Fill out the form or call us at 330-405-9421 for pricing and other information.
Product is located in Arizona. Customers can pick the machine up or have it shipped for an additional fee.
Can't Find the Equipment You Need?
We're constantly getting new listings. Let us know what you're looking for and we'll notify you when the equipment is available.
Turn Your Old Equipment Into Cash
No longer need your equipment? We can help.